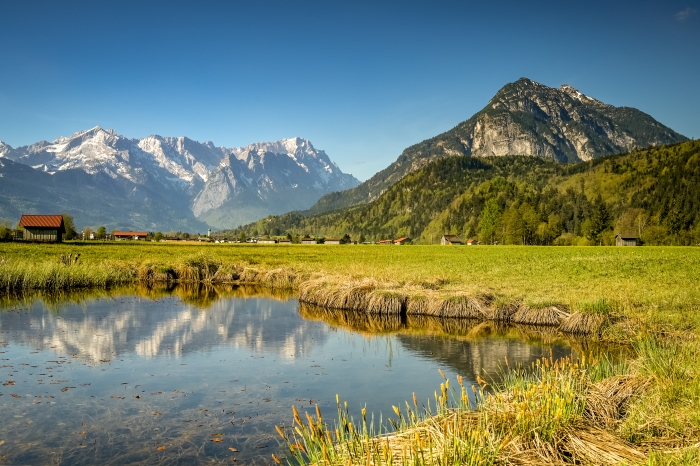 In Farchant in Bavaria's ZugspitzLand, with an unmatched view of the Alpspitze and Zugspitze peaks, life is a bit more laidback than elsewhere. Those seeking peace and quiet can find relaxation and wind down here.
Escape while exploring hiking trails through a landscape of infinite variety or ascending to quiet mountain tops – in all four seasons. Just pick your favorite activity, here in Farchant!
Farchant in the summer
A leisurely hike or bike ride through the enchanting Zugspitzland region, a hearty Brotzeit snack in a beer garden or a relaxing day of splashing and fun at the Freibad outdoor pool – which do you fancy most?
Starting summer of 2021, you can explore our NEW lovingly designed Kuhflucht nature and recreation park! Discover the Woodland Experience Trail and the Kuhflucht waterfalls with unforgettable views and perspectives for children and nature lovers.
The trail to the Kuhflucht waterfalls is an adventure for both young and old. On the tracks to the secrets of nature, experience the forest with all your senses: hear, see, touch, smell, feel and learn all kinds of new and exciting things! Young children learn while playing: How far can which animal jump, what does the ground in the forest feel like when you're barefoot, ...?
An extraordinary view awaits walkers when they get up to the Kuhflucht waterfalls: Water plunging into the depths over three levels with a total height of approx. 270 meters. Most impressive - after all, the Kuhflucht falls are one of the highest waterfalls in Germany. Starting at the upper Kuhflucht bridge, the path has been upgraded so that even more inexperienced hikers can now enjoy the most beautiful viewpoint over the waterfalls.
The water temperature in Farchant's heated outdoor pool is perfect from mid-May to mid-September! Cool enough to refresh and warm enough to splash around to your heart's delight. There is ample room for everyone on the spacious lawn with a magnificent panoramic view of the mountains and sunshine till the late hours of evening.
Your young ones can romp and play on the creative playground, the 43 m (141 ft.) long super water slide and the beach volleyball court with ultra-fine sand. All that exercise can make your stomach start to GROWL! No worry – you can barbecue up a meal at one of our sheltered barbecue stations or get a snack at the kiosk.
Farchant in the winter
In the Bavarian Alps, the cold season comes with its own special attractions: Surrounded by tranquil snow-covered fields, breathe in the fresh, crisp air, and instantly leave behind everyday worries and pressure. In Farchant, you can enjoy a multifaceted vacation experience in the snow and on the ice,
Just a snowball's throw away (3 kilometers) from the famous winter resort of Garmisch-Partenkirchen. The "Am Ried" slope in Farchant is groomed daily, snow conditions permitting, and especially offers children, adolescents, and beginners ideal skiing conditions. Snow machines ensure sufficient snow cover and optimum skiing.
Both young and old can sled their hearts out on the sled run right next to the "Am Ried" ski slope. Whizzing downhill on a sled is always a blast! The sled run is approx. 250 meters long and also safe for young children.
You don't need to don skis and boots to enjoy the snow! If you like to hike through nature in the summer, you will also enjoy winter hiking or snowshoeing. You are likely to find walking in the winter even more peaceful and relaxing than in other seasons. The snow crunches under your boots and the air is crisp and clear.
In and around Farchant, you will find ideal conditions and the right tracks, all in a unique environment: over 100 kilometers of perfectly groomed cross-country ski trails in the Zugspitzland offer a myriad of options! Glide past hay barns with hats of snow perched on the roof, through riverside forests caressed by soft snow, across glistening white meadows, ...
The Föhrenheide Sports Center is home to ice sports athletes. When the weather is appropriate, you can join skaters and curlers on the natural ice rink, or just watch them.
Farchant, home to tradition
Bavarian traditions are kept alive in Farchant: Folk music, dancing and theater are as much a part of everyday life as the lively Waldfeste (forest fests) with traditional brass band music and costumes. The festive processions on church holidays such as Corpus Christi, the mountain masses, St. John's fire on the eve of summer solstice, the colorful consecration of herbs to celebrate the Assumption of Mary on August 15 and the Kirchweih parish fair in the autumn are all highlights. Not to mention Fasching (Carnival), a time of merrymaking and fun in Farchant in February or March. That's when the Maschkera parade and romp through the streets and inns in their traditional wooden larvae masks.
Farchant and surroundings
Farchant is fortunate in being centrally located, but wonderfully peaceful at the same time Garmisch-Partenkirchen is just a few kilometers away, and Munich and Innsbruck are within easy reach as well.
Explore the incredibly beautiful and diverse natural surroundings of mountains, gorges and lakes. Go on a trip of discovery in the Olympic resort of Garmisch-Partenkirchen or the artists' domicile of Murnau in the Blue Land, follow the tracks of history and pay a visit to the castles of King Ludwig II.
Farchant Tourist Information Center - glad to be of service!
The Farchant Tourist Information Center staff will be happy to provide you with tips and help! Be it in person, by phone, or by e-mail.
Contact:
Tourist-Information Farchant
Am Gern 1
82490 Farchant
Germany
Ph. +49 8821 961696
Fax +49 8821 961622
This email address is being protected from spambots. You need JavaScript enabled to view it.
Opening hours:
Monday - Thursday
8:30 am–12:00 noon
2:00 pm– 5:00 pm
Friday
8:30 am–12:00 noon
Additionally, during the peak season: (June - September)
Friday
2:00 pm–5:00 pm